Brimblade
Statistics
Type
Weapon
Damage
28 Rogue
Knockback
6.5 (Strong)
Critical chance
4%
Use time
17 Very Fast
Velocity
12
Tooltip
Throws a blade that splits on enemy hits
Stealth strikes split further and cause the player to launch a barrage of brimstone darts
Inflicts Debuff
Brimstone Flames

100% chance



Debuff duration
3 seconds
Debuff tooltip
Rapid health loss
Rarity
Sell
7  20
Projectile created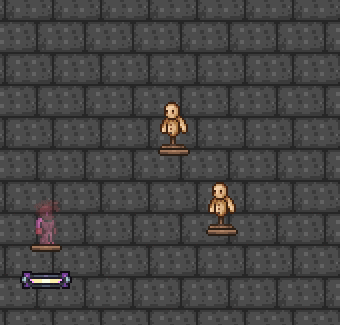 The Brimblade is a craftable Hardmode rogue boomerang made from Unholy Cores at a Hardmode Anvil. When used, it auto-throws a series of brimstone blades. When a blade strikes an enemy, it will split into 3 blades, which return to the player shortly after being released. The split blades deal 30% less damage than the main blade. Every blade inflicts the Brimstone Flames debuff and emits a burst of red particles on contact.
Performing a stealth strike with the Brimblade causes four brimstone darts to be fired alongside the Brimblade, and also causes the Brimblade to split into 4 blades instead of 3. The brimstone darts each deal the same amount of damage as the Brimblades, but have halved knockback.
Its best modifier is Flawless.
Crafting
Recipe

Charred Ore •
Unholy Core •

Blood Relic
Brimstone Sword •

Brimstone Fury •

Burning Sea •

Brimrose Staff •

Igneous Exaltation •

Brimblade

Ruin Medallion •

Furniture
Weapons:


Melee Weapons •

Ranged Weapons •

Magic Weapons •
Summon Weapons •

Rogue Weapons •

Classless Weapons