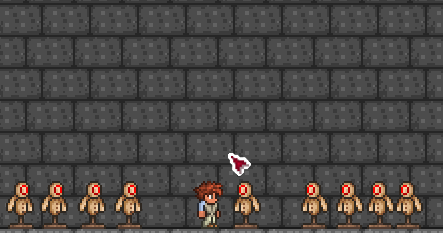 The Crimsaber was a craftable Hardmode broadsword. Upon striking an enemy, it inflicted the Ichor debuff and many streams of ichor would rain from the sky towards the player's cursor. The streams also inflicted the Ichor debuff and could pierce up to 5 enemies, but could not pass through blocks.
Its best modifier was Legendary.
Crafting
Recipe
Notes
Its function was similar to that of Bladetongue, which can be obtained around the same time, as they are both swords that summon ichor streams upon contact with enemies. Unlike Bladetongue, Crimsaber's streams rained from the sky instead of the sword itself, and they did not bounce.
Tips
The raining ichor streams inflicted the Ichor debuff for a relatively significant amount of time. This, combined with their large quantity and high piercing, made this sword a great melee equivalent to the Golden Shower.
Trivia
The Crimsaber was implemented based on a community suggestion made by GeekMan on the mod's Terraria Forums post.
Weapons:


Melee Weapons •

Ranged Weapons •

Magic Weapons •
Summon Weapons •

Rogue Weapons •

Classless Weapons