Placed Doors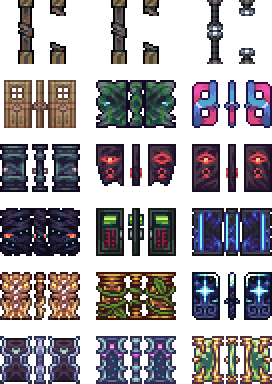 Doors are pieces of furniture that can be opened and closed to allow or prevent entry respectively. The Calamity Mod currently adds eighteen types of Doors to the game, with sixteen corresponding to specific sets of furniture.
Result
Ingredients
Crafting station

Ancient Door

Ancient Altar

Otherworldly Door

Ancient Manipulator

Stratus Door

Ashen Door

Ashen Altar

Botanic Door

Botanic Planter

Cosmilite Door

Cosmic Anvil

Exo Door

Draedon's Forge

Silva Door

Effulgent Manipulator

Eutrophic Door

Eutrophic Shelf

Aged Laboratory Door

Iron Anvil
or
Lead Anvil

Laboratory Door

Monolith Door

Monolith Amalgam

Plagued Door

Plague Infuser

Profaned Door

Profaned Crucible

Statigel Door

Static Refiner

Abyss Door

Void Condenser

Void Door

Acidwood Door

Work Bench
Notes
[
]
Unlike other doors, Aged Laboratory and Laboratory Doors are 4 blocks high instead of 3.

Blocks •
Furniture •

Walls