This is a Guide page.
This means the page will walk you through a specific task, strategy, or enemy/boss fight.
This guide was last updated for version 1.4.5.007.
Ceaseless Void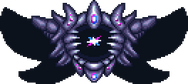 Statistics
Type
Boss
Environment
Dungeon
AI Type
Ceaseless Void AI
Damage
150 / 300 / 330 / 348 (Contact)
120 / 200 / 232 / 248 (Laser Portal, Dark Energy Ball)
Max Life
67,200 / 107,520 / 123,648
Defense
0
DR
50%
KB Resist
100%
Inflicts debuff
Distorted

100% chance

Debuff duration
1 second (Dark Energy Ball)
Debuff tooltip
Gravity around you is distorted
Immune to
All debuffs
The Ceaseless Void is a post-Moon Lord boss that is typically fought after defeating Providence, the Profaned Goddess. The Ceaseless Void will summon Dark Energies that must be destroyed for it to take damage. In addition to this, the boss only takes 1 damage (2 on a critical strike) when damaged due to its very high damage reduction, making this a rather unique boss fight. The Ceaseless Void is summoned by using the Rune of Kos in the Dungeon at any time of day.
This guide will mention items exclusive to Expert and Revengeance Mode with no special formatting and will follow the intended progression.
Terrain Preparation
[
]
Make sure you stay inside the Dungeon, since the Ceaseless Void will enrage if you stray too far outside it.
Clear out a large area in the Dungeon to fight the Ceaseless Void, since you will need room to avoid its lasers and gravitational field. If you are expanding outside the Dungeon or prefer to make your arena somewhere else, Unsafe Dungeon Walls can help you create an artificial Dungeon to either extend or create your arena.
Do take note that the Ceaseless Void will adjust its stats based on arena size.
As with any arena, life regeneration stations such as Campfires and Heart Lanterns are a must. For mages, mana regeneration stations such as the Star in a Bottle can also prove useful.
Gearing Up
[
]
Armor
[
]
Tarragon armor is the preferred choice for all classes. However, the lunar armors are still viable:
Accessories
[
]
Weapons
[
]
The weapons made from Uelibloom Bars or Bloodstone Cores are typically the best options for the fight, although pre-Providence-tier weapons are also viable. Additionally, if you have defeated the Storm Weaver and/or Signus, Envoy of the Devourer, their drops may also serve useful in this fight.
Melee
[
]
Ranged
[
]
Mage
[
]
The Nuclear Fury's homing and piercing abilities are very good for both the Dark Energies and the Ceaseless Void itself.
The Divine Retribution can deal extreme damage to the boss when it is vulnerable.
The Elemental Ray and Viscera allow for crowd control (and healing in the case of the Viscera), and work especially well in smaller arenas where there are more opportunities for bouncing, and therefore piercing (and healing).

Creating a smaller arena or an arena with lots of reflecting surfaces will be slightly more difficult than just making a large open space, and will also be more difficult to maneuver in to avoid the Ceaseless Void's attacks. As such, this may not be the best weapon to use if you are unsure of how to effectively create such an arena.
Summoner
[
]
Multi-target minions such as the Elemental Axe or Stardust Dragon Staff will fare much better against the Dark Energies.

Single-target minions suffer during this fight due to the large amount of enemies to kill. As such, they are not recommended.

The Profaned Soul Artifact is also useful in this fight due to the large span of attacks the Guardians can use.
Rogue
[
]
Miscellaneous
[
]
The Fight
[
]
The Ceaseless Void boss fight consists of the same cycle of attacks, which changes slightly as the Void's health goes down.
The boss will spawn a laser portal at a starting rate of every 15 / 10 seconds, which homes in on the player and fires 8 homing lasers every 3 seconds before dispersing 10 seconds after its initial summon. The lower its health, the more frequently a laser portal is spawned. In Expert Mode, the portal's spawn rate increases by 50%. In Revengeance Mode, the portals will also spawn 4 invincible Dark Energy projectiles that orbit around a fixed point for 10 seconds and deal contact damage. When the Ceaseless Void is under 50% health or enraged, this number increases to 12. In Death Mode, this number is always 12.
Dark Energies become immune to knockback when below 50% / 70% / 90% health in Normal, Revengeance and Death Mode respectively. That being said, the Dark Energies have quite high knockback immunity even when they are vulnerable to it, meaning it does not make much of a difference. Additionally, with each increase in difficulty, the Dark Energies become more aggressive, and in Revengeance Mode the swarms are also larger.
Beginning
[
]
The Ceaseless Void will begin in an invulnerable state, summoning 6 Dark Energies to attack you, while dealing contact damage and creating laser portals. Once the Dark Energies are destroyed, the boss becomes vulnerable to damage. In this stage, it is advisable to use any AoE weapons to take out the Dark Energies quickly to get make the boss vulnerable, and using your dash accessory to avoid the lasers and Dark Energies will also help.
90% Health
[
]
The Ceaseless Void will begin to suck you closer to it via a gravitational field, which is designated by a purple ring around the boss. This gravitational field will get bigger as the boss loses health. In order to avoid this, circling with a wide berth around the Ceaseless Void is advised, as the gravitational fields will cause you to take a fair amount of contact damage if you are not careful.
70%/40%/10% Health
[
]
The Ceaseless Void will once again become invulnerable and summon 24 Dark Energies to attack you, still dealing contact damage and creating laser portals. Once the Dark Energies are destroyed, the boss once again becomes vulnerable to damage. At this point, just rinse and repeat from the beginning stage to defeat the Ceaseless Void.

Boss Guides •
Progression Guides

 
Boss Guides
Pre-Hardmode Bosses

Desert Scourge • Crabulon • The Hive Mind • The Perforators • The Slime God

Hardmode Bosses
Cryogen • Aquatic Scourge • Brimstone Elemental • Calamitas • Leviathan and Anahita • Astrum Aureus • The Plaguebringer Goliath • Ravager • Astrum Deus
Post-Moon Lord Bosses
Profaned Guardians • The Dragonfolly • Providence, the Profaned Goddess • Storm Weaver • Ceaseless Void • Signus, Envoy of the Devourer • Polterghast • The Old Duke • The Devourer of Gods • Jungle Dragon, Yharon
Superbosses
Supreme Calamitas