This is a Guide page.
This means the page will walk you through a specific task, strategy, or enemy/boss fight.
This guide was last updated for version 1.4.5.007.
Ravager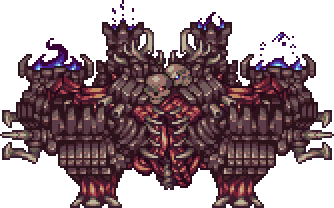 Statistics
Type
Boss
Environment
Surface
Max Life
141,665 / 189,525 / 206,805 (total) (pre-Providence)
708,325 / 947,625 / 1,034,025 (total) (post-Providence)
KB Resist
100%
Inflicts debuff

Weak Petrification

Debuff duration
Infinite in Phase 2
Debuff tooltip
Your vertical movement is weakened
Immune to
The Ravager is a Hardmode boss that can be fought at any time, however it is recommended to fight it after Golem. Ravager is summoned with a Death Whistle at any time.
This guide will mention items exclusive to Expert and Revengeance Mode with no special formatting and will follow the intended progression.
Terrain Preparation
[
]
It is recommended to fight Ravager in a flat area with plenty of room. Having a long, flat arena with multiple layers of platforms 20-30 tiles apart will help dodge Ravager's stomps and provide a large area to dodge its other attacks. The platforms will also especially help in Phase 2, where flight time is greatly reduced.
Gearing Up
[
]
Armor
[
]
Accessories
[
]
Weapons
[
]
Melee
[
]
Ranged
[
]
Mage
[
]
Summoner
[
]
The Resurrection Butterfly is an effective weapon summoners should utilize due to its high damage.
The Hive Pod summons a powerful sentry that provides high damage.
The Borealis Bomber is an active summoner weapon which will help boost damage.
Rogue
[
]
Plaguenades are a good option for rogue users because of their ability to make large swarms which damage all of Ravager's parts at once, especially when paired with the Plague Hive.
The Duke's Decapitator is a powerful weapon against Ravager because of the fact that Ravager does not move much allowing it to deal high damage.
The System Bane is good against Ravager due to the fact that Ravager stays close enough to the ground for the aura to hit it.
Classless
[
]
Miscellaneous
[
]
In addition, although they are mage weapons, the player could also use the Golden Shower and Everglade Spray to inflict debuffs. These weapons can be more useful than the ones above due to their piercing abilities.
Gearing Up Post-Providence
[
]
Armor
[
]
Tarragon armor is the preferred choice for all classes.
Lunar armors are also effective, lower-tier alternatives.
Accessories
[
]
Weapons
[
]
Weapons that are either dropped by Providence, the Profaned Goddess or made from Uelibloom Bars are typically the best choices for this fight.
Melee
[
]
Ranged
[
]
Mage
[
]
Summoner
[
]
The Energy Staff is a good sentry because of its high damage and homing.
The Dragonblood Disgorger is a solid choice for summoners due to its damage and lifesteal capabilities.
Rogue
[
]
The Shattered Sun is a weapon that rogue users should utilize due to its good damage and homing allowing the player to focus on dodging.
The Elemental Disk can deal high damage due to the extra disks it spawns.
The Molten Amputator provides good damage at the cost of range.
Classless
[
]
A Lunic Eye and a Golden Gun can make the fight easier to bear due to their powerful debuffs. Although at this stage in progression, items such as the Golden Shower or Everglade Spray are more useful for inflicting debuffs due to their piercing.
Miscellaneous
[
]
The Well Fed buff provides a useful all around stat boost.
The Fight
[
]
Phase One
[
]
Ravager has a similar AI to Golem: it attempts to jump above the player, stomp down, and deal heavy contact damage along with inflicting Armor Crunch. Dashes are crucial in order to avoid this attack. It is a slow-moving enemy and has a large hitbox, but makes up for it with its great amount of health and its high damaging attacks. Each of its body parts has separate health bars and they all move separately from each other with no distinct pattern. It has two claws on either side that shoot out in a similar fashion to Golem Fists. These can be avoided by speedily flying upwards or by attacking them to knock them back. The head shoots a homing nuke which can home in on the player but explodes after a short amount of time.
Phase Two
[
]
Ravager will inflict the Weak Petrification debuff, effectively grounding the player. It will also stop performing all its previous attacks. Ravager's head will detach from its body and start hovering around the player, occasionally firing a burst of bolts that inflict On Fire!. Ravager will aggressively launch itself into the air and attempt to align with the player before stomping down. It should be noted that it will not deal contact damage until it stomps down. The best way to dodge this attack is to run away in a straight line.
Expert Mode
[
]
Ravager occasionally summons two large rock pillars that fly up into the air in an attempt to slam into the player, inflicting Armor Crunch if they connect. These can be avoided by dashing away from Ravager and keeping some distance from him. The rock pillars also cannot travel through platforms, allowing them to be dodged by hiding under one. It also summons two flame pillars that spawn on either side of the player and fire bouncing blue flames in the air. If you keep moving throughout the fight these should be a little easier to handle.
Revengeance and Death Mode
[
]
A few aspects of the fight are quicker: Ravager itself will jump more often, the drill missiles will track the player more accurately and faster while the Flame Pillars shoot projectiles in faster. In Death Mode, all projectiles are roughly twice as fast.
General Tips
[
]
Cursed Inferno and Ichor are both debuffs that can affect Ravager, allowing the player to deal more damage.
The Rod of Discord (or Normality Relocator for the post-Providence fight) can allow the player to instantly teleport away from attacks.

Boss Guides •
Progression Guides

 
Boss Guides
Pre-Hardmode Bosses

Desert Scourge • Crabulon • The Hive Mind • The Perforators • The Slime God

Hardmode Bosses
Cryogen • Aquatic Scourge • Brimstone Elemental • Calamitas • Leviathan and Anahita • Astrum Aureus • The Plaguebringer Goliath • Ravager • Astrum Deus
Post-Moon Lord Bosses
Profaned Guardians • The Dragonfolly • Providence, the Profaned Goddess • Storm Weaver • Ceaseless Void • Signus, Envoy of the Devourer • Polterghast • The Old Duke • The Devourer of Gods • Jungle Dragon, Yharon •

Exo Mechs

 • Supreme Calamitas
Superbosses
22px

Eidolon Wyrm (adult)