Phaseslayer
Statistics
Type
Weapon
Damage
980 Melee
Knockback
7 (Strong)
Critical chance
4%
Use time
24 Fast
Tooltip
A rough prototype of the Murasama blade, it is formed entirely from laser energy
Wield a colossal laser blade which is controlled by the cursor
Faster swings deal more damage and release sword beams
When at low charge, the blade is smaller and weaker
Current Charge: [CHARGE]
Rarity
Sell
28
Projectiles created
Not to be confused with Phasesabers, similarly-named vanilla broadswords.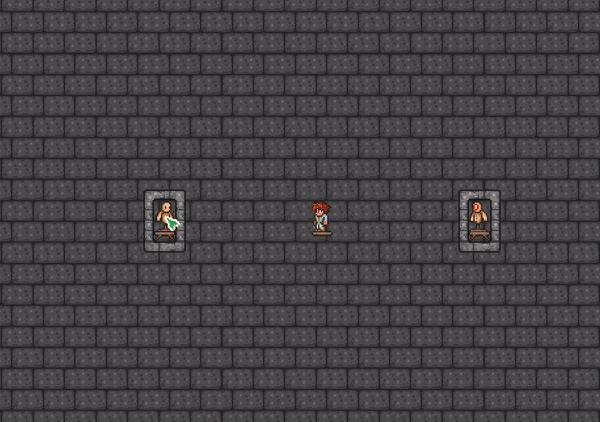 The Phaseslayer is a craftable unique post-Moon Lord melee weapon. When used, a long red laser blade is created that deals continuous contact damage to enemies. The blade always points towards the player's cursor and deals increased damage the faster and farther the blade is swung, encouraging the player to manually swing the blade. Swinging the blade fast enough will cause additional homing sword beams to fire, which deals 15% damage and pierces twice.
The weapon consumes 0.005 units of charge for each frame the weapon is held (totaling 0.12 units of charge per use) and has a maximum charge of 250. Each time a homing sword beam is fired, 0.1 unit of charge is depleted. After charge is dropped below 25.0% (62.5 units), the blade shrinks and damage decreases by 10%.
Its best modifier is Godly. It cannot get modifiers that affect size.
Crafting
[
]
Recipe
[
]
The Phaseslayer cannot be crafted until the Encrypted Schematic from the Ice Bio-center Lab is decrypted. If the requirement has not been met, two lines of tooltip are added at the bottom of the item:
You don't have sufficient knowledge to create this yet
A specific schematic must be deciphered first
Notes
[
]
The damage and aim responsiveness of the blade is proportional to the distance of the mouse cursor from the player. The closer it is to the player, the less effective the item is, but the more frequently it fires extraneous beams.
The swifter and farther the angular movement of the blade is, the higher damage it deals. The damage calculations are smooth and proportional, but notable values are listed here for convenience:

No angular movement results in 53.5% damage.
360 degrees per second results in 100.0% damage.
540 degrees per second results in 116.6% damage.
720 degrees per second results in 130.6% damage.
1080 degrees per second results in 153.5% damage.
1800 degrees per second results in 187.0% damage.
Tips
[
]
Increasing the mouse sensitivity is recommended for maximum damage output from this weapon due to how it works.
Trivia
[
]

Dubious Plating •

Mysterious Circuitry •
Draedon Power Cell

Gauss Dagger •

Taser •
Pulse Pistol •
Star Swallower Containment Unit •

Tracking Disk
Hydraulic Volt Crasher •

Matter Modulator •

Gauss Pistol •
Mounted Scanner •
Frequency Manipulator

Galvanizing Glaive •

Gauss Rifle •

Gatling Laser •
Pulse Turret Remote •

System Bane

Pulse Dragon •
Heavy Laser Rifle •

Plasma Caster •

Snake Eyes •

Wave Pounder

Phaseslayer •

Pulse Rifle •

Tesla Cannon •

Pole Warper •

Plasma Grenade
Weapons:


Melee Weapons •

Ranged Weapons •

Magic Weapons •
Summon Weapons •

Rogue Weapons •

Classless Weapons