Sepulcher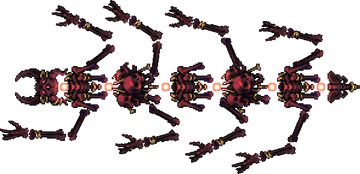 Statistics
Type
Burrowing Enemy
AI Type
Worm AI
Damage
0 (Contact)
400 / 600 / 750 / 862 (Brimstone Dart)
Max Life
1,000,000 / 1,200,000 / 2,000,000
Defense
0
DR
99.99%
KB Resist
100%
Inflicts debuff
Abyssal Flames

100% chance

Debuff duration
3 seconds (Brimstone Darts)
Debuff tooltip
Your soul is being consumed
The Sepulcher is a post-Moon Lord boss servant enemy that is spawned during the fight with Supreme Calamitas. It spawns twice during the fight: Once when the initial bullet hell ends, and later when Supreme Calamitas reaches 8% health, shortly after the final bullet hell. Ten Brimstone Hearts will spawn along with it, distributed mostly in the upper corners of Supreme Calamitas's arena. These hearts must be destroyed in order to kill the Sepulcher.
The Sepulcher, notably, deals no contact damage, instead firing diagonal bursts of

Brimstone Darts from its segments in order to damage the player.
Segments
[
]
Summons
[
]
Notes
[
]
The Sepulcher has 53 segments in total.
Brimstone Hearts take 2/3 damage from Celestus' phantom blade projectiles.
During the Boss Rush, Brimstone Hearts will have 90,000 max health regardless of difficulty.
The Sepulcher can be killed without destroying the Brimstone Hearts, although this takes a very long time and is not recommended. Killing the Sepulcher this way will still allow the player to progress into the fight.
Trivia
[
]
The word "sepulcher" refers to a kind of tomb or burial chamber.
Enemies (List):

Pre-Hardmode •
Hardmode •
Post-Moon Lord •
Event Enemies •

Bosses •

Critters •

Friendly NPCs