Wave Pounder
Statistics
Type
Weapon
Damage
102 Rogue
Knockback
0 (No Knockback)
Critical chance
4%
Use time
55 Extremely Slow
Velocity
16
Tooltip
It utilizes its power to send heavy shockwaves throughout the area, causing agonizing internal damage.
Throws a bomb which explodes into a forceful shockwave
Stealth strikes emit absurdly powerful shockwaves
Current Charge: [CHARGE]
Rarity
Sell
24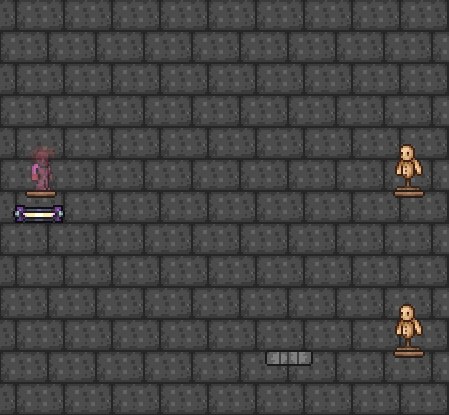 The Wave Pounder is a craftable post-Moon Lord bomb. When used, a gravity-affected bomb is thrown, which is able to stick onto a solid floor for 3 seconds or until a target is struck before it explodes. When exploded, a large shockwave is formed along with cosmetic cloud particles, continuously dealing damage for a short time.
Performing a stealth strike with the Wave Pounder causes the resulting explosion to dramatically increase in size, allowing it to shake the screen.
The weapon consumes 0.5 units of charge per use and has a maximum charge of 190.
Its best modifier is Flawless.
Crafting
[
]
Recipe
[
]
Notes
[
]
Storm Weaver takes only 40% damage from the Wave Pounder's explosions.

Dubious Plating •

Mysterious Circuitry •
Draedon Power Cell

Gauss Dagger •

Taser •
Pulse Pistol •
Star Swallower Containment Unit •

Tracking Disk
Hydraulic Volt Crasher •

Matter Modulator •

Gauss Pistol •
Mounted Scanner •
Frequency Manipulator

Galvanizing Glaive •

Gauss Rifle •

Gatling Laser •
Pulse Turret Remote •

System Bane

Pulse Dragon •
Heavy Laser Rifle •

Plasma Caster •

Snake Eyes •

Wave Pounder

Phaseslayer •

Pulse Rifle •

Tesla Cannon •

Pole Warper •

Plasma Grenade
Weapons:

Melee Weapons •
Ranged Weapons •

Magic Weapons •
Summon Weapons •

Rogue Weapons •

Classless Weapons